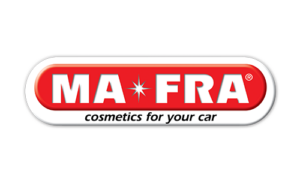 About MAFRA
Cleaning a vehicle is one of the key aspects of maintaining its glory and performance level. However, the use of water and regular soap to clean a car causes more damage than repair overtime, and this is why using car care products is vital to keeping a vehicle clean and well- maintained.
MA-FRA is one of the world's leading brand names in car care products, producing a complete range of innovations for vehicle cleaning, maintenance and detailing. Providing ultimate solutions for car care, MA-FRA products clean vehicle interiors and exteriors, no matter what the material
is. The available product range services metals, plastic, fibre, glass, leather, synthetics, tires and any other material that could be found in a car's interior or exterior.
Not only do MA-FRA products spotlessly clean all parts of a vehicle, they also help maintain it from future damage that could be caused over time. With features such as anti-dust barriers,
UVA safeguarding, protection against fingerprints and smears, and odour elimination, it is easy
to see why MA-FRA products are world-renowned for best results